75 million people cannot read in the United States.
35 million people are dyslexic. 
That means nearly 1/3 of the population has limited or no access to a written Bible.
How will they grow in the Lord?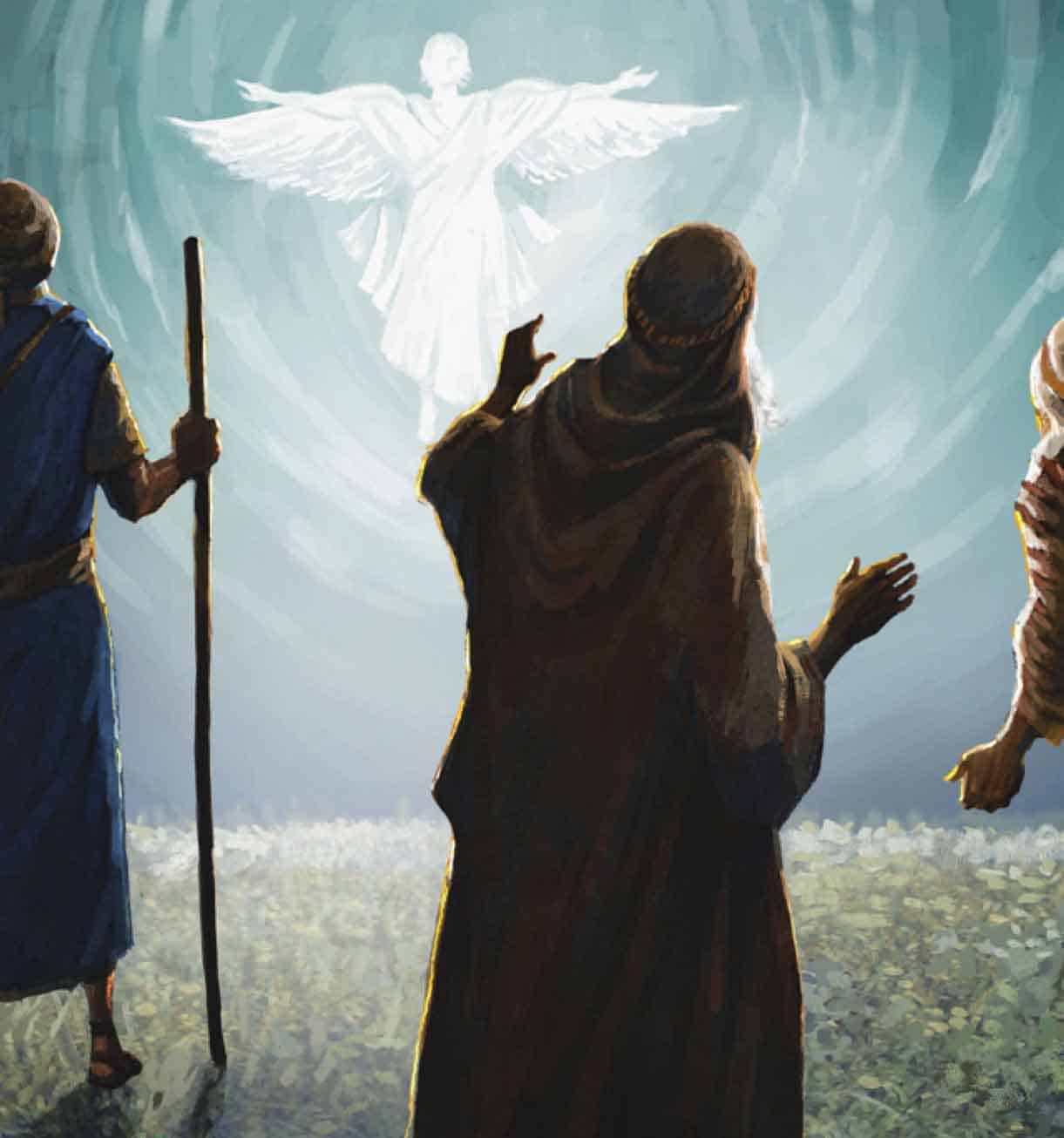 In a world of digital media,
a physical Bible can get neglected.
Nowadays, when we need instructions, we're less likely to sift through piles of instruction manuals. Instead, we search YouTube to find a how-to video.
It's clear that, for many of us, when we see it helps us understand.
That's why we're creating The Video Bible. When completed, it will be the world's first cover-to-cover, audio + visual representation of the entire Bible that makes interacting with God's word as easy as opening an app and pressing play.
When the Bible was first printed, the spread of the Gospel grew by leaps and bounds. Studies show that when audio is combined with the visual, people retain up to 65% more. How much more will the Gospel grow with greater on-ramps to God's Word in a format that is easier to access and retain?
The Video Bible will make it easier for all to engage with Scripture.
Here's how you can help.
Together, we can bring to life the Book of James and other books in one year.

Fund The Next Verse
Producing a verse-by-verse audio + visual version of the Book of James and other Bible books will take over 1,000 donors. Fund a verse for just $20 per month.

Get First Access
Monthly donors will receive regular updates and first access to The Video Bible.

Make Eternal Impact
Your support will give you access to The Video Bible as it is produced and support thousands of people who will use it to offer more hope around the world.
We believe The Video Bible will transform lives.
The mere concept of The Video Bible is creating waves of hope for those desperate to have it.
"When I got older, it was harder for me to sit down and focus. The Video Bible will help me tremendously with that. It will be so nice to see the Bible come to life."
"This will have a dramatic spiritual impact on my daughter who has dyslexia because she has never been able to interact with the written word."
"The artwork from this project will greatly further my ministry efforts in the Congo as it will for other missionaries around the world."
– Tim Hunter, SIL/Wycliffe Bible Translators
The artwork is breathtaking.
As a sign of gratitude for investing in the early stages of The Video Bible,
those who fund a verse will receive access to the art for the Book of James.
Frequently Asked Questions
Why are you starting with the Book of James?
James is one of the most popular books because of its practical teachings.
How will you raise the money?
With over 1,000 donors giving $20/month, we can produce the Book of James and other books in our first year. Since we believe God has ordained this mission, we are trusting for the provision to complete it in a year, but will continue working diligently until it's completed.
Here are exciting things God has already done:
● We have hard-to-get traction with Bible publishers, including a licensing commitment from Biblica (the nonprofit Bible division of Zondervan) to use the NIV audio Bible, narrated by Max McLean.
● We have highly talented artists devoted to the project.
● We have a Google grant of $12,000 per month in ad credits.
● And, we have a commitment from The Gospel Coalition to share The Video Bible with their audience.
How will funding be used?
We know it's hard to decide where to give, so we want to be upfront and transparent about how your one-time or monthly gifts will be used to bring the Book of James to life in one year.
Year One Operating Budget
● Storyboarding and editing: $ 13,750.00
● Marketing, ads, social content creation: $ 23,000.00
● Admin, receipting, fundraising: $ 36,000.00
● Donor software and management: $ 15,000.00
● Voice-over talent and music: $ 42,650.00
● Compensation and benefits for artists and administrators: $ 217,475.00
Benefits include FICA, Social Security tax, and medical insurance stipend.
How quickly will you be able to produce the entire Bible?
We will work through the Bible as quickly as possible, starting with the Book of James in one year, followed by the rest of the Gospels, then the remainder of the New Testament, and finally, the Old Testament. Our primary focus is on producing the books of the Bible that introduce Jesus to the world, which we believe we can accomplish in 3.5 years once fully funded.
How will you distribute the Bible and will there be a cost to it?
As The Video Bible is created, it will be available on YouTube and The Video Bible app. While an app may include advertising, it will be free for public consumption. As a monthly donor, you'll receive early access and can help test user-friendliness.
Are you trying to replace the written Word?
We are not replacing the written Bible. Digital access with audio + visual components simply makes the Word easier to consume for more people who are busy, not likely to read, or not able to read.
What are your doctrinal standards?
We believe in the Holy Scripture. We believe it was originally inspired and given by the Holy Spirit. We believe that the Bible is without error. We believe it is the Word of God. We believe the Bible reveals only one living and true God, existing in the three persons of the Godhead: the Father, the Son, and the Holy Spirit.
We believe in the full deity and full humanity of Jesus Christ, in his virgin birth, his sinless life, his miracles, his substitutionary and atoning death for our sins, his bodily resurrection, his ascension to the right hand of God the Father, his present rule over and intercession for the Church, and his future visible return in power and glory.
We believe in the present ministry of the Holy Spirit, whose work of regeneration is essential for salvation. By the Spirit's sanctifying power, which indwells all believers in Christ, we are enabled to live godly lives of worship and service.
If people aren't reading the Bible, we have a responsibility to ask "Why?"
As Christians, we want the whole world to know and love Jesus like we do. But, when the Bible is more accessible than ever before and it's still not being consumed at an equivalent pace, how can we make more of an impact?
Read More
Our goal is to meet people where they are. To deliver the Bible in the form of media that today's society is most used to consuming. A video + audio representation that makes God's Word accessible enough to put on during the drive home from school, to be watched while fitting in a walk on the treadmill, or to be played before the evening meal.
Truth is – people don't read the Bible for lots of reasons. Some are visual learners and the written Bible feels too complex, others struggle with dyslexia or impaired vision, while others around the world don't have a written language at all.
No matter the reason, lives are at stake. And, together, we can help.
With a gift of $20/month, you can spread the hope of Jesus in a refreshingly practical way.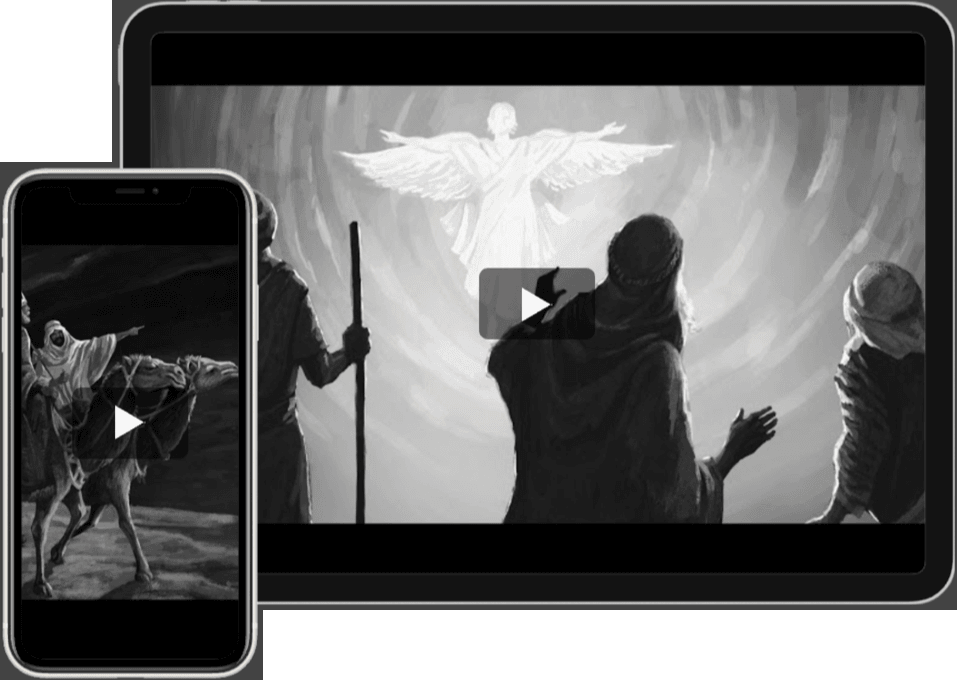 Watch a Preview of the World's First Cover-to-Cover Video Bible
Get instant access to Luke 2:1-17.