We're on a Mission
Like you, we want the world to know Jesus better.
Engaging with scripture
ought to be easier for all.
If you've longed to see everyone experience the life-changing love of Jesus and felt frustration over not knowing how to make that happen, you're not alone.
It's hard to determine where to serve, where to give, and which approach will make the most impact. Often, even the best efforts still see certain demographics overlooked.
That's why we're thrilled to invite you to become a founding partner of The Video Bible. When completed, it will be the world's first audio + video representation of the entire Bible and has the power to connect people of every age, stage, and learning style with the Good News.
Become a founding partner.
"I love my physical Bible. But I have never been able to engage with the written word . . . So this project will literally change my life and that is why I give."
"One of the daily struggles that we have in our own home is what media and how much media to put before our children. I know that I would be delighted to have my kids sit down . . . and be engaged by God's Word through a medium that excites their minds and their hearts and their imaginations for the truth of God's Word."
"I give to The Video Bible because I care about overseas missions. I know this Video Bible and the art will have a HUGE impact on the developing world. It makes me very excited to think about The Video Bible going into other languages and what that would mean for the world."
It's important you know a few
things about The Video Bible.

Only Jesus offers hope the whole world needs. That's why we're starting with the Book of James, a practical book of teachings.

The Video Bible will be available on YouTube and a custom app. It will be free for public consumption and used by ministries around the world to make the Word more accessible.

It Will Impact Generations.
We can't help but be excited when we imagine a world where people are consuming the entire Bible, cover-to-cover, in the way their brains are most accustomed to learning.
It would be an honor to partner with you in ministry.
The Video Bible Team.
Jesus is the one in charge.
But, in case you want to know who's a part of His crew:
Dave Pillow
Founder
Pastor, prodigal, rouge, and former enemy of Jesus Christ, Dave hit rock bottom in 2006 and met God in this pain and misery. Dave then spent 12 years in ministry trying to atone for all his previous mistakes and found no rest. It wasn't until 2018 when Dave was diagnosed with an acute brain infection and death was certain that he did find rest in Jesus Christ. Finally, understanding the gospel, The Video Bible was born out of that rest and forgiveness. Dave's mission is that broken people find that peace in Jesus. There is only rest in the gospel. And the Bible points the way to it.   (See More)
Sean Luo
Senior Designer & Web Painter
Sean was born in mainland China where he fell in loved with art and drawing at a young age.  He was classically trained and then went on to spend many years working for Disney in Florida creating such feature films as Mulan, Lilo and Stitch, Hercules, and many more.  Sean now gives his passion to the Lord and spends many nights creating the art for the Video Bible for the cause of Christ.
Jade Maddox
Sr. UX/UI Designer
Jade, a former Senior Designer at InterContinental Hotel Group, is one of the foremost graphic designers in the world. She's excited to use her talent for the Kingdom.
Ryan King
Motion & Graphic Designer
Ryan has worked on award-winning television series that you may have seen on AMC and on other networks.  He has also worked for the Golf Channel, and various Christian feature films like Letters to God.  Today he is excited about using his talents for Jesus and furthering the gospel with the Video Bible. 
Dr. Gary B. Spooner
Advisory Board
Gary has an impressive set of theological degrees, but pairs academia with compassion. Together with his wife, he has founded a Christ-centered counseling center to help people connect better with Jesus.
 Adam M. White
Advisory Board
Adam is a highly experienced strategic operations director and lead solutions engineer at a large tech company. He has a passion for culture and driving efficiency in business operations as well as ministry.
Frequently Asked Questions
How will you raise the money?
With over 1,000 donors giving $25/month, we can produce the Video Bible. Because we believe God has ordained this mission, we are trusting for the provision to complete.  Currently, we have 102 monthly donors.  Would you please consider donating so we can get to 1000 monthly donors?
Here are exciting things God has already done:
● We have hard-to-get traction with Bible publishers, including a licensing commitment from Biblica (the nonprofit Bible division of Zondervan) to use the NIV audio Bible, narrated by Max McLean.
● We have highly talented artists devoted to the project.
● We have a Google grant of $12,000 per month in ad credits.
● And, we have a commitment from The Gospel Coalition to share The Video Bible with their audience.
How quickly will you be able to produce the entire Bible?
We will work through the Bible as quickly as possible, starting with the Book of James in one year, followed by the rest of the Gospels, then the remainder of the New Testament, and finally, the Old Testament. Our primary focus is on producing the books of the Bible that introduce Jesus to the world, which we believe we can accomplish in 7.5 years once fully funded.
How will you distribute the Bible and will there be a cost to it?
As The Video Bible is created, it will be available on YouTube, YouVersion, and The Video Bible app. As a monthly donor, you'll receive early access and can help test user-friendliness. The Video Bible will be free to access and the only cost will be that to create it which you can help fund.
Are you trying to replace the written Word?
We are not replacing the written Bible. Digital access with audio + visual components simply makes the Word easier to consume for more people who are busy, not likely to read, or not able to read.
What are your doctrinal standards?
We believe in the Holy Scripture. We believe it was originally inspired and given by the Holy Spirit. We believe that the Bible is without error. We believe it is the Word of God. We believe the Bible reveals only one living and true God, existing in the three persons of the Godhead: the Father, the Son, and the Holy Spirit.
We believe in the full deity and full humanity of Jesus Christ, in his virgin birth, his sinless life, his miracles, his substitutionary and atoning death for our sins, his bodily resurrection, his ascension to the right hand of God the Father, his present rule over and intercession for the Church, and his future visible return in power and glory.
We believe in the present ministry of the Holy Spirit, whose work of regeneration is essential for salvation. By the Spirit's sanctifying power, which indwells all believers in Christ, we are enabled to live godly lives of worship and service.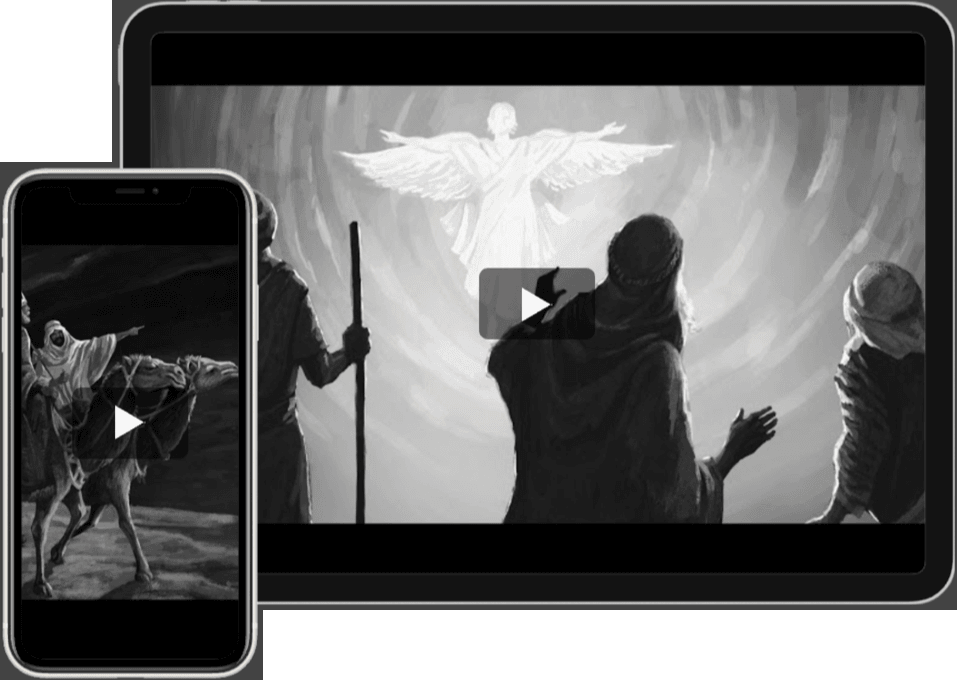 Watch a Preview of the World's First Cover-to-Cover Video Bible
Get instant access to Luke 2:1-17.