Last updated: September 19, 2023
Please read these Terms of Use ("Terms", "Terms of Use") carefully before using the videobible.com website (the "Service") operated by Video Bible ("us", "we", or "our").
Your access to and use of the Service is conditioned on your acceptance of and compliance with these Terms. These Terms apply to all visitors, users and others who access or use the Service.
By accessing or using the Service you agree to be bound by these Terms. If you disagree with any part of the terms then you may not access the Service.
Refund Policy
Since, we pay our artists quickly with the funds people send into us.  Refunds often put a hardship our ministry.  Therefore, donations or payments can be refunded within 3 days if we are notified immediately.  Refunds must be obtained by contacting customer service through the Contact us page.  Failure to contact within 3 days voids the ability to refund.  
Intellectual Property
The Service and its original content, features and functionality are and will remain the exclusive property of Video Bible and its licensors.
Links To Other Web Sites
Our Service may contain links to third-party web sites or services that are not owned or controlled by Video Bible.
Video Bible has no control over, and assumes no responsibility for, the content, privacy policies, or practices of any third party web sites or services. You further acknowledge and agree that Video Bible shall not be responsible or liable, directly or indirectly, for any damage or loss caused or alleged to be caused by or in connection with use of or reliance on any such content, goods or services available on or through any such web sites or services.
We strongly advise you to read the terms and conditions and privacy policies of any third-party web sites or services that you visit.
Termination
We may terminate or suspend access to our Service immediately, without prior notice or liability, for any reason whatsoever, including without limitation if you breach the Terms.
All provisions of the Terms which by their nature should survive termination shall survive termination, including, without limitation, ownership provisions, warranty disclaimers, indemnity and limitations of liability.
Disclaimer
Your use of the Service is at your sole risk. The Service is provided on an "AS IS" and "AS AVAILABLE" basis. The Service is provided without warranties of any kind, whether express or implied, including, but not limited to, implied warranties of merchantability, fitness for a particular purpose, non-infringement or course of performance.
Governing Law
These Terms shall be governed and construed in accordance with the laws of United States without regard to its conflict of law provisions.
Our failure to enforce any right or provision of these Terms will not be considered a waiver of those rights. If any provision of these Terms is held to be invalid or unenforceable by a court, the remaining provisions of these Terms will remain in effect. These Terms constitute the entire agreement between us regarding our Service, and supersede and replace any prior agreements we might have between us regarding the Service.
Changes
We reserve the right, at our sole discretion, to modify or replace these Terms at any time. If a revision is material we will try to provide at least 30 days notice prior to any new terms taking effect. What constitutes a material change will be determined at our sole discretion.
By continuing to access or use our Service after those revisions become effective, you agree to be bound by the revised terms. If you do not agree to the new terms, please stop using the Service.
Messaging Terms & Conditions
Video Bible | Video Bible | P-O Box 367 Opelika AL US 36803
General
When you opt-in to the service, we will send you a message to confirm your signup.
By opting into messages, you agree to receive recurring automated marketing and informational text messages from Video Bible for Video Bible. Automated messages may be sent using an automatic telephone dialing system to the mobile telephone number you provided when signing up or any other number that you designate.
Message frequency varies, and additional mobile messages may be sent periodically based on your interaction with Video Bible. Video Bible reserves the right to alter the frequency of messages sent at any time to increase or decrease the total number of sent messages. Video Bible also reserves the right to change the short code or phone number where messages are sent.
Message and data rates may apply. If you have any questions about your text plan or data plan, it is best to contact your wireless provider. Your wireless provider is not liable for delayed or undelivered messages.
Your consent to receive marketing messages is not a condition of purchase.
Carriers
Carriers are not liable for delayed or undelivered messages.
Cancellation
You can cancel any time by texting "STOP". After you send the SMS message "STOP", we will send you a message to confirm that you have been unsubscribed and no more messages will be sent. If you would like to receive messages from Video Bible again, just sign up as you did the first time and Video Bible will start sending messages to you again.
Info
Text "HELP" at any time and we will respond with instructions on how to unsubscribe. For support regarding our services, email us at dave @videobible.com.
Transfer of Number
You agree that before changing your mobile number or transferring your mobile number to another individual, you will either reply "STOP" from the original number or notify us of your old number at dave @videobible.com. The duty to inform us based on the above events is a condition of using this service to receive messages.
Privacy
If you have any questions about your data or our privacy practices, please visit our [Privacy Policy].
Messaging Terms Changes
We reserve the right to change or terminate our messaging program at any time. We also reserve the right to update these Messaging Terms at any time. Such changes will be effective immediately upon posting. Your continued enrollment following such changes shall constitute your acceptance of such changes
Contact Us
If you have any questions about these Terms, please contact us.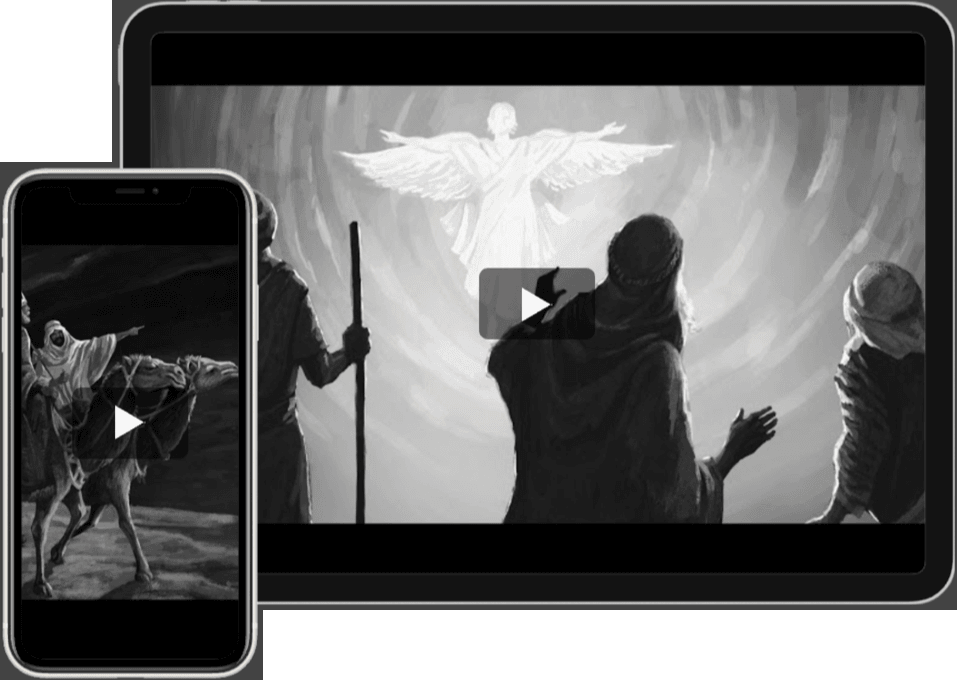 Watch a Preview of the World's First Cover-to-Cover Video Bible
Get instant access to Luke 2:1-17.