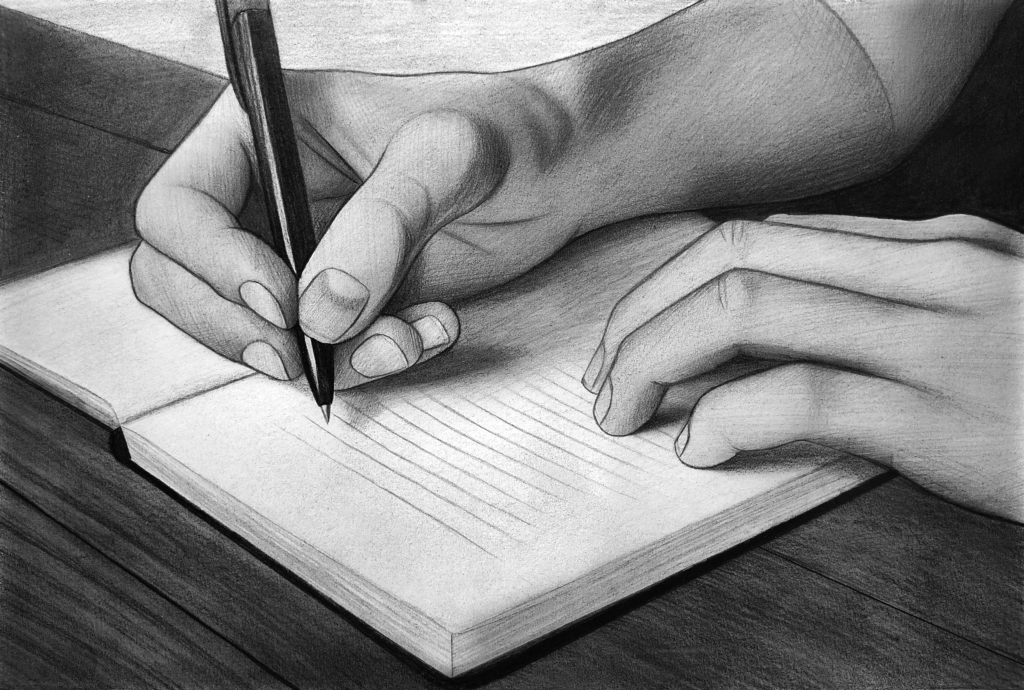 Launching Video Bible was a step into the unknown, a courageous act of faith, and a terrifying leap all rolled into one. I needed something to steady and ground me on the journey: That's why I started Bible journaling. 
Years ago, I imagined journaling involved writing "Dear Diary" in a sparkly, pink notebook. But now I know that it's more like a powerful record of my conversations with the King of Kings. I've seen God use my journaling discipline in mighty ways. It has strengthened my faith, amplified my praise, and guarded against my pride. 
The benefits of journaling go beyond how it impacts my personal life. When I write in my journal, I imagine my children reading it one day. On good days, I'm excited to know that they'll have a record of all the amazing things God did. On tougher days, I hope my honest accounting will show them clearly that Christ is the hero, and I'm definitely not.
According to the NIV Bible, "Bible journaling is simply about reading your Bible devotionally and taking time to respond to the insights you receive. For many, this means spending time exercising their creativity by responding to God's Word artistically."
If you're ready to jump into this practice, you may have some questions:
Why should we journal?

When should we journal?

How should we journal?
Let's explore these questions together with the scripture as our guide!
Why Should We Bible Journal? 
Bible Journaling Helps us Remember 
Consistent journaling gives us the opportunity to look back on the arc of our life and see God's faithfulness. Recounting what God did in the past assures us that He will also be with us in the future. This helps us learn to trust Him.
Over and over throughout the Old Testament, God says, "I am the God of Abraham, Isaac, and Jacob." It's like He's saying, "Remember all of the wonderful things I did for your ancestors." I imagine that when the ancient Israelites heard this, their shoulders relaxed, their stress melted away, and they gave a sigh of relief. Suddenly their present circumstances didn't seem so scary because they knew that the God of their forefathers was with them.
Bible Journaling Brings New Insights
Have you ever read a Bible passage and realized your eyes were moving over the page, but nothing was soaking into your brain? Yup, I've been there! I've found journaling to be really helpful in those moments. Writing about the Bible is a way of engaging more deeply with the text. Often, once I start writing, the Holy Spirit will bring me a new insight into the verses or show me how to apply them to my life. 
Journaling about a Bible passage also makes it easier to remember later on. In Proverbs 7:3, God instructs us to write His commands on the tablet of our hearts. I've found that journaling is one method God uses to do that.
Bible Journaling is a Guardrail against Pride  
Our human tendency is often to revise things through history and time. Journaling keeps our recall honest. Whether we're giving God a battlefield account of our daily challenges or going to Him in worship and thanksgiving, journaling provides a more accurate account of our lives. Then when we look back, God gets all the glory.
When Should We Journal?
I like to journal in the evenings to summarize my day and surrender it to God. Other people are in the habit of journaling in the morning. The time of day doesn't really matter. What's more important is the state of your heart. My most impactful journaling moments have come from my deepest emotions.
David also wrote prayers to God when he was overcome with strong emotions. The Psalms are like David's journal, and he often used his emotions as the starting point for his entries. Through the process of putting pen to paper (or stylus to scroll!), he was able to process his feelings and life circumstances. 
David reached out to God when he was…
Stressed:

"When anxiety was great within me, your consolation brought me joy."

– Psalm 94:19

Fearful:

"

I sought the Lord, and he answered me; he delivered me from all my fears."      – Psalm 34:4

Grief-stricken:

"

The 

Lord

 is close to the brokenhearted and saves those who are crushed in spirit."

– Psalm 34:18

Feeling abandoned:

"My God, my God, why have you forsaken me? Why are you so far from saving me, so far from my cries of anguish?

"

–

Psalm 22:1
As David turned to God with his hard emotions, God transformed them into praises. And, He'll do the same for you!
How Should We Journal?
There are many ways to journal, and it's fun to be creative with it. You can draw, underline, highlight, copy verses, use stickers, write definitions, and ask questions. Some people like to write directly in their Bible, while others use a separate notebook. My favorite is a combination of both. The possibilities are endless, and there's only one rule– focus on God. 
According to the NIV Bible, "highlighting keywords, writing down next steps, or making note of areas that need prayer" are all forms of Bible journaling.1 One simple yet powerful way to journal in your Bible is by writing the date next to a verse that the Holy Spirit whispered to you in a moment of distress. Now every time you read that passage, you will remember how God used it in your life. Highlighting and underlining verses in your Bible can help with memorization, too. 
Using a Separate Notebook
You'll have more room in a notebook to add colorful drawings, tables, or lists without worrying about damaging your Bible. It's okay to be yourself in this space. God wants to reveal His word to you and teach you how to apply it in everyday life. So, grammar and perfect penmanship don't matter. Be yourself and trust God to guide you!
I use my journal in two main ways. First, I write out what happened that day, including how God challenged or grew me. Second, after reading my Bible, I will write out the verses that grabbed my attention and include my thoughts about them. 
One Final Note on Bible Journaling
After God brought the Israelites a miraculous victory, Samuel placed a stone in a prominent place as a reminder of God's goodness and faithfulness. "He named it Ebenezer, saying, 'Thus far the Lord has helped us'" (1 Samuel 7:12). Your journal can act like an Ebenezer, a permanent reminder of all of the blessings God has poured out on your life. I hope you embrace this discipline and discover even more of the riches of God's love for you!